July 8, 2022
Welcome to the fourth edition of #FirebaserFriday!
We're happy to introduce you to another member of the Firebase community, Kirupa Chinnathambi! He started out his journey with Firebase on a project a few years ago, needing a quick way to get user input into a database. Read on to hear the rest of his story!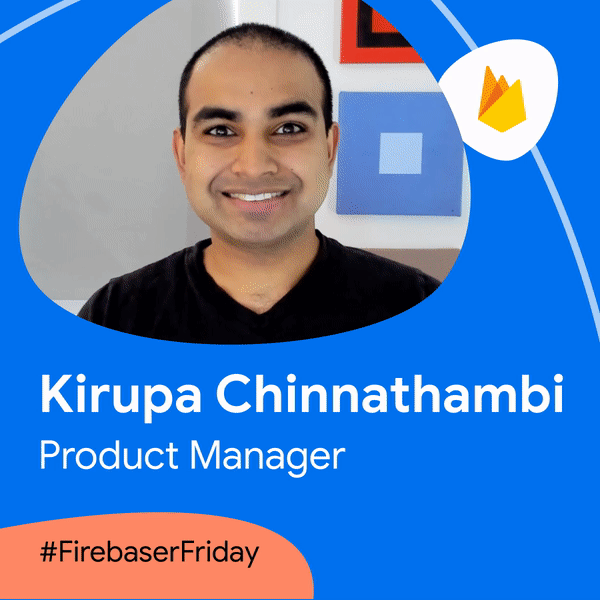 What are you working on right now?
As the Product Manager, I spend a lot of my time exploring how to address the needs and desires many developers (like yourself!) have in a way that still makes building on Firebase easy and fun... while still being scalable!
How did you get started with Firebase?
For a project I was working on a few years ago, I needed a quick way to get user input into a database. I had always heard about Firebase being a great development platform that abstracts away the messy details of pulling something like this off, so I decided to use this opportunity to give Firebase a shot. I was instantly hooked with the ease-of-use, and I've been a fan of Firebase ever since.
What 3 pieces of advice would you give yourself when you first became a developer?
`1)` When stuck, there is no better time-saver than learning how to effectively search Google. `2)` Development is hard. Getting stuck is inevitable and OK. Go at your own pace, learn the basics, and have fun along the way! `3)` Build small apps/projects. Nothing gets you more familiar with a concept than using it as part of a larger end-to-end solution.
What's a book / movie / TV show that you think more people should see?
It's hard to pick just a few here, so I'm going to break the rules and make two suggestions: `1)` Something fun: I'm one of those people who loves the Marvel superhero movies. More specifically, the first Iron Man. `2)` Something serious: Invisibles by David Zweig. It presents a different view of success that goes against the trending narrative we see today.
Where can we find your work?
You can find me on Twitter [here](https://twitter.com/kirupa). You can also check out my [blog](https://www.kirupa.com/) and [YouTube channel](https://www.youtube.com/c/kirupa).
This monthly mini-profiles series features Firebase team members, aka "Firebasers", from all around the world. Follow along to learn how these members of the team got started with Firebase, more about the Firebase products they work on, advice on how you can get started, and more. To read all the profiles in this series click here!
For more stories, news, and tips from the Firebase community be sure to follow us on Twitter at @Firebase.